Information for Refugees from Ukraine, Russia and Belarus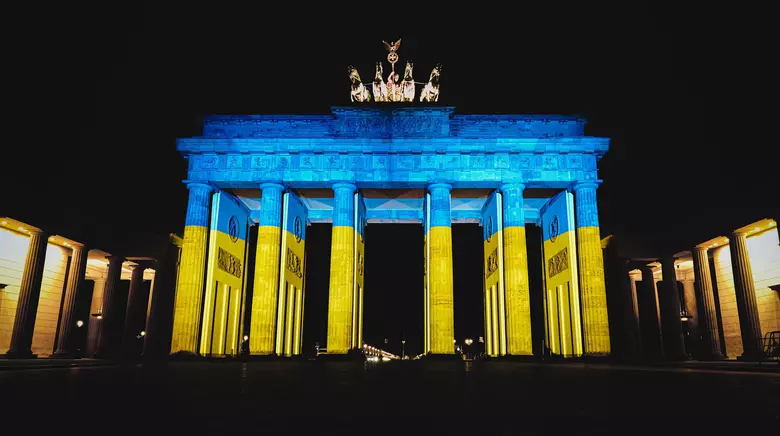 Welcome to Berlin! We are thrilled to have you here in the capital city of Germany. To make your time here easier, we have collected some important information on the subject of arriving in Berlin, finding accommodation, finding a job and other useful information. We will be updating this page regularly.
Arriving in Berlin
Rules for Ukrainian citizens
As a Ukrainian citizen, you and your family are allowed to travel to Berlin and stay here temporarily without a visa. You will receive a residency permit that allows you to work in any capacity you choose and is initially valid for two years.
Once you arrive, please go to the Berlin Arrival Centre and apply for a humanitarian residence permit. Once the online application process is available, we will publish a link to it on this page. Please make sure you are familiar with the specific requirements for receiving this permit before applying (passport, home address, etc.)
This residency permit grants you status as a war refugee (with a certificate called a Fiktionsbescheinigung in German, an initial permit). Taken together with your passport (or replacement passport), this certificate is proof that you are in Germany legally. It also grants you access to additional services, such as health insurance or benefits. At a later date, you will be invited to an official appointment to receive your normal residency permit, provided that you meet the requirements.
Arrival Centre
Oranienburger Straße 285 13437 Berlin
If you need information and would prefer to talk on the telephone, you can call the City of Berlin hotline from Monday to Sunday between 7am and 6pm. There you can speak to someone in Ukrainian, Russian, German or English.
Telephone
+ 49 (0) 30 90 127 127
OUR TIP:

Our associates at Because Berlin are providing support and personal assistance for people who have just arrived in Berlin. Feel free to contact them if you need help!
The Federal Ministry of the Interior and Community also offers important basic information on the website, as well as information on the topics of accommodation, medical care, work and social affairs, and mobility.
Below, you will find important information in German, Ukrainian and Russian that will make your arrival in Berlin easier.
Rules for Russian and Belarus citizens
If you have come to Berlin because of the situation in Ukraine, you will need a D-Visa which you must apply for at the relevant embassy before your arrival in the city. In this case, the normal visa rules for third party countries/non-EU citizens apply.
Rules for refugees who are not Ukrainian citizens
If you currently have a temporary residency permit for Ukraine (e.g. a student visa), you can apply for temporary protection status. A Schengen visa gives you the right to stay in Berlin or Germany for up to 90 days. However, a work permit is not included.
Finding accommodation in Berlin
If you are unable to stay with relatives or friends, Berlin has plenty of support available to help you find accommodation. You can access support from both the government and private persons. The Arrival Centre will inform you as to what your options are.
Below, we have collected some trustworthy links. If you are searching for accommodation, simply contact one of organisations listed.
Find accommodation: English information
Знайти житло: Українська інформація
Найдите жилье: Русская информация
Additional support in Berlin
Berliners are ready and willing to help make your arrival as comfortable as possible. For example, Ukrainian citizens can, until the end of March 2022, ride the trams, S-bahn, buses and U-bahn for free. Please ensure you have your passport on you if you wish to make use of this offer. You can also travel for free with Deutsche Bahn (DB) within Germany, using the "helpukraine" ticket.
In addition, the Staatsbibiothek Berlin-Mitte, that is the Berlin State Library, is temporarily allowing Ukrainians to borrow books for free, city-run pools are allowing Ukrainians to swim for free, and lots of cultural institutions are also offering entry for free, including FEZ Berlin.
You also have access to health care. More than 500 doctor's offices in Berlin are currently offering free health care to Ukrainian citizens. Plus, many emergency shelters have MedPoints that offer quick, uncomplicated access to medical care.
OUR TIP:

If you are in need of psychological assistance, please contact the Crisis Chat! They are providing emergency help via WhatsApp or Facebook in English, Ukrainian and German.
Further offers of help: English information
Інші пропозиції допомоги: Українська інформація
Дальнейшие предложения о помощи: Русская информация
Finding a job in Berlin
We are Berlin's official portal for skilled workers and we would be happy to help with your job search. Our Job Portal can help you find open positions in the city. You can also find out about the Berlin job market, Berlin industries and more.
The Federal Employment Agency in Berlin has set up a central mailbox for Ukrainians who are looking for a job. There you can also reach staff members in Ukrainian.
Mail
berlin.work-ukraine@arbeitsagentur.de
In addition, there is a new landing page of the Federal Employment Agency for refugees in German, English and Ukrainian, where you can search specifically for jobs.
Right now, we recommend you make use of the recruitment services on offer from Imagine, jobs4ukraine and UA Talents, which were created to connect you directly with a suitable employer. The links to these services can be found below. Take advantage of what they have to offer!
OUR TIO

Every Friday there is an open consultation hour on the topics of job application and job search for Ukrainian refugees in Berlin. The counselors advise in English or German. An interpreter accompanies the offer in Russian and Ukrainian.
Find a job in Berlin: English information
Знайти роботу в Берліні: Інформація українською
Найти работу в Берлине: Русская информация