Finally finished with work: Leisure in Berlin
Finally off work, but what to do now? How about climbing in the Waldhochseilgarten Jungfernheide, playing beach volleyball in the Volkspark Friedrichshain, a dinner in the dark restaurant, relaxing on the former airport grounds in Tempelhof, miniature golfing on the indoor black light facility with 3D effects, swimming in the bathing ship on the Spree or sailing in a house boat across the Müggelsee? The good thing is, you are in Berlin, the city that never sleeps. No other German city has more leisure opportunities than Berlin. Whether it is theater, concerts or clubs – in Berlin there is always an opportunity to enjoy the time off work and free weekends.
More than 175 museums, 220 galleries, 150 theaters, 273 cinemas, 60 Christmas markets, almost 50 flea, art and antique markets, countless sports offers, sports events and a colorful shopping landscape make Berlin a city with space for education and movement.
OUR TIP

With the map "Discover Berlin for free", you can explore the capital at a zero tariff. Watch now!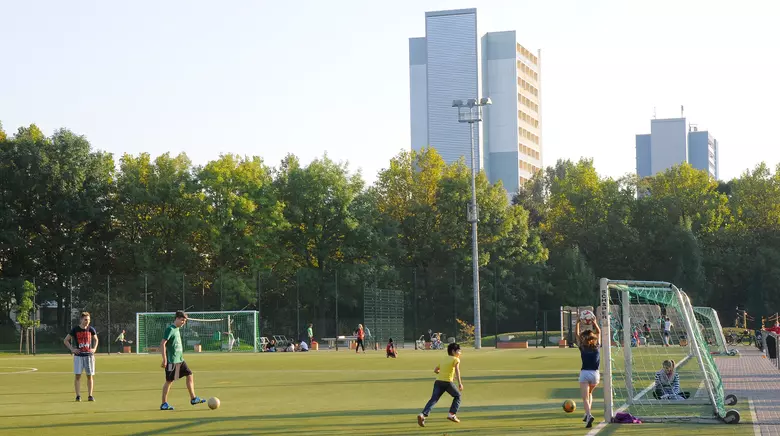 Whether it is jogging, walking, ball games, skating, tennis, badminton, gold, yoga or fighting sports – in Berlin you have a large selection of 2,009 sports clubs, free training groups, outdoor and indoor sports grounds. Berlin provides more than 1,200 public sports facilities: 69 indoor swimming pools, 34 open-air pools, 500 sports grounds, around 130 streetball grounds, 50 skating facilities, climbing rocks, running trails and cycling routes. These facilities are usually sponsored by the boroughs. However, the sports program is extended by the Berliner Bäderbetriebe, private operators and self-organized groups.
OUR TIP

With the Sportmap Berlin, you will discover exciting outdoor sports facilities along the Berlin S-Bahn route – football, basketball, table tennis, fun sports and summer sports!
Due to the restructuring program for sports facilities, Berlin's boroughs have an annual amount of 9 million euros for restructuring measures at their expense. And nothing beats Berlin when it comes to watching sports which is evident in the numerous sports events. The Olympiapark, for instance, is one of the largest sports complexes in Europe. The Sportforum Hohenschön­hausen, the Max-Schmeling-Halle, the Velodrom, the swimming and sports facility in the Europasport­park (SSE) or the multifunctional arena O2 World also stage professional sports events.
OUR TIP

In Berlin, many hobby sportsmen and women organize themselves in independent groups for running meetings, as an example. Ask your colleagues!
Shopping paradise Berlin
Up for shopping? It's good you are in Berlin: here you will find fancy boutiques, noble designer shops, shopping centers and endless shopping streets. Stroll around the Kurfürstendamm or along the Friedrichstraße! Walk around in the pedestrian areas such as the Wilmersdorfer Straße or discover small designer stores around the Kollwitzplatz! Whether it is clothes, furniture, electronics or accessories – Berlin has everything you need because Berlin is inspiring. Berlin's weekly markets are particularly popular, for example the Turkish market at the Maybachufer. There you will find everything the heart desires: from a traditional cobbler to ecologically grown vegetables from the surroundings.
Shopping districts in Berlin:
Alexanderplatz
Hackescher Markt
Friedrichsstraße
Kurfürstendamm and Tauentzienstraße
Oranien- and Bergmannstraße
Schönhauser Allee
Schloßstraße
The best thing is: Berlin has several Sundays per year open for shopping. Then you have all the time in the world for your shopping.
OUR TIP

Visit one of the many weekly markets in Berlin!
Excursions to Brandenburg and the Baltic Sea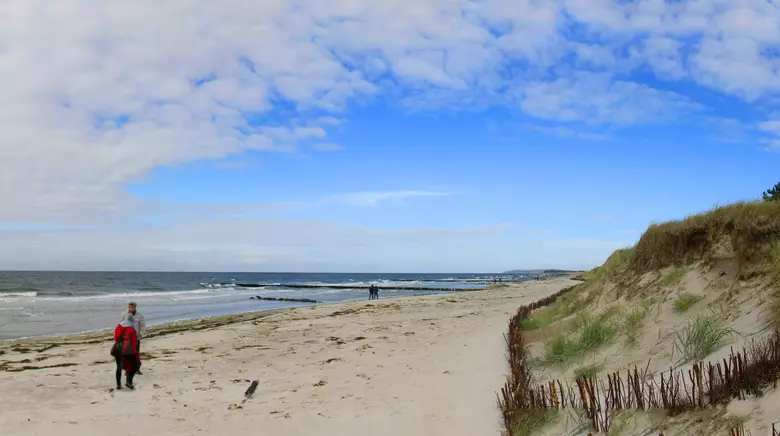 Not even three hours by train and you can feel sand under your feet and breathe sea air. Especially in the summer months, the Baltic coast is the most popular destination for the Berliners. Sea, spa and beach resorts – from Usedom to Rügen, Hiddensee and Fischland-Darss-Zingst to the Bay of Mecklenburg – the Baltic Sea is fantastically beautiful. A one-way trip with the InterConnex from Berlin to Warnemünde costs around 27 euros per person and route. There, you can choose between private pensions, vacation rentals and hotels. The Baltic Sea not only has opportunities for a long weekend, it is also attractive for many long-term travelers.
The Sanssouci Palace, the Filmpark Babelsberg or the Caputh Palace – Potsdam is only 35 kilometers away. Potsdam is perfect for a day trip and lies within the network of the public transport company BVG. A one-way ticket costs 3,40 euros per person and route. Potsdam is one of the most beautiful cities in Europe. The parks Sanssouci, New Garden, Babelsberg with their palaces, palace and park Sacrow with the Church of the Redeemer, the Russian colony Alexandrowka, the Pfingstberg with the and the Kaiserbahnhof at the Wildpark are part of the UNESCO World Heritage.
Experiencing nature, bathing, golfing, riding, sailing, surfing, hiking – all that and more is possible in Brandenburg and the surroundings. The Havelland, the Spreewald and the Uckermark invite for local recreation. Discover the surroundings of Berlin! There are several regional express trains heading from Berlin towards your desired destination. A week ticket costs 29 euros. Enjoy your trip!
Music and party capital Berlin
Whether it is rock, pop or classical music – Berlin has got them: the stars. Berlin is hardly ever missing in a tour program since it is a hotspot of the music scene. Berlin is home to large record companies and the best producer scene in Germany. That's why Berlin attracts as many music fans as musicians.
In Berlin, you can attend a concert or go dancing in a club at almost any day. Berlin is also the stronghold of the techno scene. More famous DJ were born in Berlin than anywhere else. Together with colleagues from all over the world, they play in Berlin's clubs. No matter which music style, concert, party or club – there is always something happening in Berlin.
Film city Berlin: And... action!
Berlin has 273 movie theaters, 13 of which are multiplex theaters. A total of 9.3 billion Berliners go to the movies every year. Whether it is mainstream movies, retrospective or films in the original language – in Berlin, you can watch a different movie highlight every day. The best thing about it: Berlin has the most up to date audio and video technology, always at the highest international standard. From May to September, it is open-air cinema season in Berlin – movie fun at famous and hidden places of the capital.
Year after year, the International Film Festival "Berlinale" attracts movie stars and movie buffs from all over the world to Berlin. Over 300,000 sold tickets, almost 20,000 professional visitors from 124 countries including around 3,700 journalists: art, glamour, party and business are inseparably linked at the Berlinale. The film festival is an open-minded and exciting cultural event with an undiminished appeal.
Since there are more film shootings in Berlin than anywhere else, you can come across a familiar face from film and television anytime and anyplace. They are home in Berlin: the international movie stars. Catering vans, equipment trucks and illuminated streets – nothing is more typical of a street scene in Berlin than a film set. And if you are lucky, you might even meet Brad Pitt in the supermarket.
OUR TIP

Take a look in the Movie Country Map Brandenburg! There is an overview of well-known movies, which have been shot in the Berlin area. Exciting.
Leisure time: relaxing in the city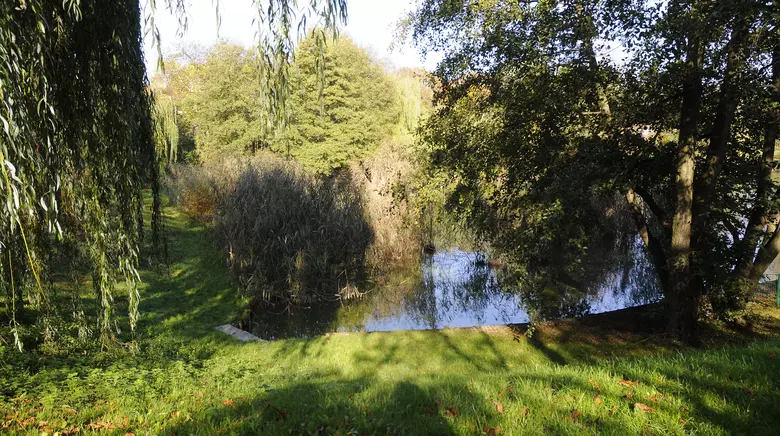 For all those simply wanting to switch off, Berlin is the ideal place. Are you surprised? Whether it's yoga, Pilates, sauna, a massage or outdoor recreation, Berlin has more tranquil spots than you'd think. Typical Berlin residents also appreciate their city when it comes to escaping the hustle and bustle of urban life. The 20,000 square-meter sauna oasis, vabali Spa, for example, is just 500 meters from the main train station and invites guests to enter a Far Eastern world of tranquility. Berlin's Liquidrom provides musical relaxation in a darkened salt water pool. The former airport site at Tempelhof Field is now an impressive 300-hectare area for BBQs, chilling and flying kites. Whatever relaxation means to you, you will find it in Berlin.
Museum landscape Berlin
From the Alten Nationalgalerie to to the Sugar Museum – Berlin is the city of museums, exhibitions and galleries. 14 million people visit over 175 museums in Berlin every year. The Museum Island and the Sanssouci Palace (Potsdam) have even been declared World Cultural Heritage sites by UNESCO. There is a lot to discover.
Use our interactive theme map to quickly find the locations of Berlin's museums, theaters and cinemas!
Here is an overview of the most popular museums:
Altes Museum
Antikensammlung
Berlin Cathedral
Berlin Underworld Museum
Computer games museum
DDR Museum
German Museum of Technology
Gemäldegalerie
Hamburger Bahnhof – Museum für Gegenwart
Jewish Museum
Checkpoint Charlie Museum
Museum für Naturkunde
Neue Nationalgalerie
Pergamon Museum
Charlottenburg Palace
Sanssouci Palace
Stasi Museum
More information on museums and galleries
Berlin's stages: Curtain up!
Berlin has more than 175 stages and many free theater groups, several musical theaters, three internationally renowned operas – the Berlin State Opera Unter den Linden, the Deutsche Oper and the Komische Oper – and seven symphony orchestras, notably the Berlin Philharmonic. Classic, modern, open-minded, different – Berlin's stages are popular for their diverse program.
Here is an overview of Berlin's biggest stages: