If you are looking for a flat or house in Berlin, you can choose from twelve residential districts and various housing options. Be it an old or new building, townhouse, houseboat, urban villa or bungalow – the capital offers a real variety of properties to rent and buy.
Those wanting to experience city life move to Kreuzberg, Neukölln or Tempelhof-Schöneberg. Those wanting to be surrounded by some greenery are well catered for in Steglitz-Zehlendorf, Spandau or Treptow-Köpenick. Regardless of which residential area you decide upon, every Berlin district boasts excellent transport links and infrastructure.
OUR TIP

take a look at our "Districts & Neighbourhoods" section. Here you will find a brief description of all Berlin's residential areas.
On average, around 1.12 million Berlin residents live inside and 2.63 million outside the S-Bahn ring. Therefore, most of the new-build projects by state-owned housing associations concentrate on Berlin's suburbs. In 2019, 20 percent of planned residential units were in Lichtenberg, 16 percent in Marzahn-Hellersdorf and 14 percent in Spandau, as opposed to just 5 percent in Mitte and only 1 percent in Charlottenburg. Please bear this in mind when seeking accommodation.
If you want to buy or rent a property in Berlin, location-specific property portals will help you obtain an overview of the market situation. Some portals charge a fee; others do not. Some are smaller; others are larger. Use the Vergleich.org property portal comparison service to find the right property portal for you!
Over 85 percent of Berlin residents live in rented accommodation. The city's six largest housing associations are:
degewo
GESOBAU
GEWOBAG
HOWOGE
STADT UND LAND
WBM
State-owned
In 2012, the Berlin Senate created the "alliance for social housing policy and affordable rents". This development has a positive impact on the rent index of more than 1.6 million Berlin rental households.
In 2015, The Bundestag and Bundesrat adopted the so-called rent brake in Berlin. Since then, the Rent Control Act has legally limited any increase in Berlin rents. This means that new rentals may only be a maximum of 10 percent above the local benchmark rent. The local benchmark rent is based on the capital's rent index. You can access this online.
New-builds that are initially rented are exempt from this rent brake. The new legislation also changed the way agency fees are handled. The person who commissions the agency now pays the fees. This is usually the landlord.
On the websites of the state-owned housing associations, you can specifically search for housing by district, rental price, living space and furnishings.
When you rent a flat in Berlin, you usually have to pay a deposit. This deposit is used to secure any claims by the landlord arising from the tenancy and amounts to between one and three months' net rent.
OUR TIP

If the landlord asks for a deposit, make sure that this is transferred to a bankruptcy-proof account. As soon as you vacate the rented flat, you should immediately ask for the deposit to be repaid.
Tips for seeking accommodation in Berlin
In order to find accommodation quickly and easily, please note the following.
Before starting your search, define your requirements in terms of apartment size, furnishings and rental price – compromising will improve your chances.
Make inquiries about suitable residential areas in advance – this will limit your search radius.
Also consider adverts without photos – as these tend to get fewer clicks, you will have a better chance of securing them.
Check the rent index of the residential area in advance – this will give you a benchmark for the "rental price".
Ask the landlord how the utility costs are calculated – if these are based on the previous tenant, find out how many people used to live in the apartment. If anything is unclear, ask to see the energy certificate. If the flat has a gas boiler, hot water and heating are not included in the utility costs.
Call the agency directly to clarify what documents you need to take to any viewings
OUR TIP

Use our accommodation application check list (PDF, 190 kB) – an overview of the documents you need to apply for a flat in Berlin.
Through our listing point "More about renting in Berlin", you will be directed directly to Berlin rental offers from various providers. Good luck with your rental search!
Berliner Morgenpost's "household income rental check" has examined current rents in Berlin. By entering your average monthly income and the required number of rooms, you can find out how expensive an apartment is in your dream area.
Buying your own home or building your own house in Berlin
More and more Berlin residents are opting for home ownership as a capital investment and pension. Due to the rising demand, flats and houses are increasingly being put up for sale. Our guidance will help you search for your own home and provide useful links for building a house in Berlin.
Berlin Schufa information
Regardless of whether you want to rent a flat, buy or build a house – your landlord or seller will ask for a Schufa credit report. This provides information about your personal financial situation and ability to pay and forecasts your creditworthiness. In short: a Schufa credit report gives the landlord or seller security that you are not in debt and can pay your rent and/or mortgage instalments for the house or flat.
Schufa (Schutzgemeinschaft der allgemeinen Kreditsicherung, General Credit Protection Agency) works with around 8,500 contractual partners that provide the company with information about your current and former credit rating. These contractual partners primarily include banks, but also telecommunications providers and mail order companies.
A report costs between EUR 14.95 and EUR 29.95 and is available in selected easycredit shops or Postbank branches. Alternatively, you can also request a credit report online or by phone.
NB: Don't forget to take your ID card or passport and registration certificate when you apply.
OUR TIP

Try to obtain your own Schufa credit report and attach a copy of this to your application documents for a flat or house. This will improve your chances of concluding a rental agreement.
Temporary accommodation in Berlin
If you cannot find a flat straight away or are looking for a flat-share or other lodgings, we recommend a hotel or lodging in a private room as temporary accommodation. This will allow you to take your time looking for the right flat or house. The best place to look for furnished or unfurnished rooms and/or flats is online. There is usually no commission for temporary accommodation in Berlin.
Flat-shares in Berlin
For anyone who does not want to live alone or who has a limited budget, we recommend a flat-share (known in German as a "WG", short for "Wohngemeinschaft"). A flat-share means having your own bedroom, while sharing a bathroom, kitchen and optional lounge with other people. People of all ages live in flat-shares. A WG is a popular form of accommodation among Berlin residents.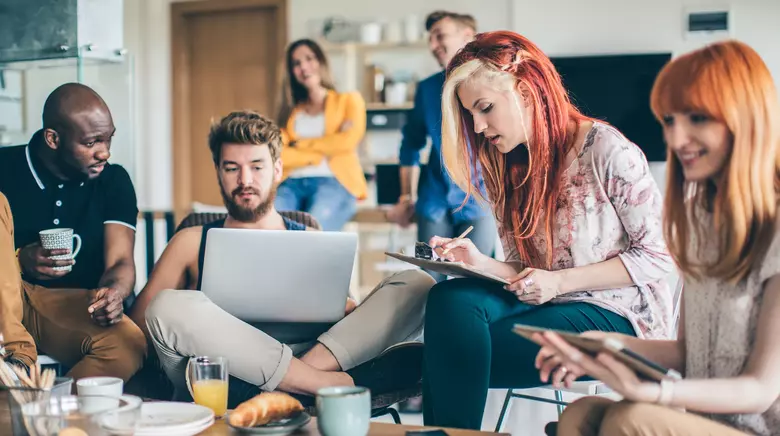 Working from home: co-living in Berlin
Living and working under the same roof? Yes, that's OK. Co-living is the new trend in Berlin! For anyone who is at home in their work environment and does not want to forgo a sense of community, co-living or co-housing is the perfect choice.
This modern housing trend is particularly suited to newly-arrived Berlin residents who would like to network and benefit from the resulting synergies. If you value a flexible rental agreement and would welcome assistance with matters such as registration certificates and bills, you should familiarise yourself with this form of accommodation. You will never be alone and will also enjoy special benefits such as high-speed Internet or regular cleaning of your rented accommodation, for example, as well as the presence of other tenants. Check it out!
Working from home: co-living in Berlin