Traffic in Berlin: At your destination in 45 minutes
Subway, city train, tram, bus, taxi... Berlin's local transport system is more expansive than any other transport network in Germany. No matter where you want to go, you don't need more than a half an hour to your workplace via the city train network. Berlin is also a bicycle-friendly city; most of the city is equipped with bicycle lanes and stoplights. The capital city residents are enthusiastic users of alternative forms of transport like motor-scooter and car sharing and ride sharing.
Local public transport in Berlin: From A to C
Ten subway lines, 22 city tram routes, 15 city train lines, six ferry lines and 1,300 buses: Berliner Verkehrsbetriebe and S-Bahn Berlin GmbH get you to your destination safely and quickly. Along with 40 other Berlin and Brandenburg transportation companies, both companies are members of the Verkehrsverbund Berlin-Brandenburg (VBB (Berlin-Brandenburg Transport Association)).
Metropolitan Berlin and the surrounding region are divided into three tariff zones: Zone A includes the downtown area including the Berlin city train ring, Zone B extends to the Berlin city boundary, Zone C to around 15 kilometres into the surrounding area, including the city of Potsdam. Tickets are available, as needed, for combined zones, AB, BC and ABC. This includes one-way tickets, 4-trip tickets, 24-hour tickets, 7-day tickets, monthly tickets, tourist tickets, and annual travel passes.

The subway, city train, tram and bus lines are very simply organized by numbers and colours. Information about the fastest connection and price is available via the app or online on the websites of the Berlin transportation companies. Simply enter the start and destination plus the desired arrival or departure time and get started.
OUR TIP:

From April 2023, there is the Deutschlandticket available across Germany! For a fixed price of 49 euros per month, this ticket allows you to use all public transport in Berlin-Brandenburg as well as Germany-wide public transport (ÖPNV) and local rail transport (SPNV) of all participating transport companies, state tariffs and transport associations.
With sharing, completely on trend: Share cars and bicycles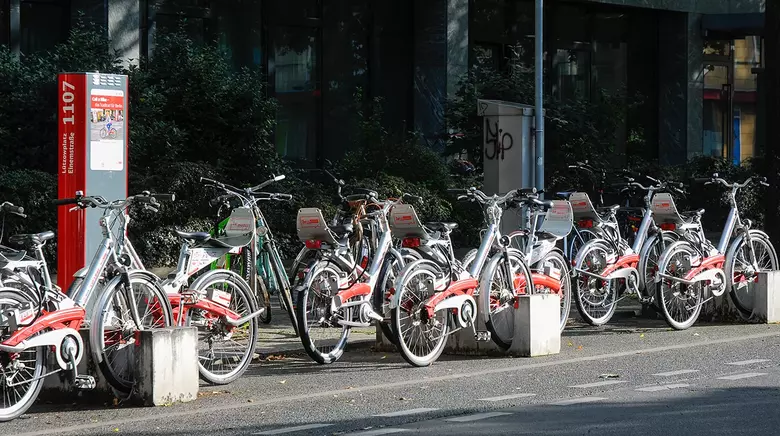 Share Now, Miles, WeShare, Flinkster and Cambio are the car sharing giants in Berlin. Car sharing allows you to locate a car near you and reserve it using an app and then drive it. To use the service, you have to register once per service provider. Your driving time is then invoiced per minute or based on kilometres driven. Gas, insurance and parking fees are included. This also works for borrowing motor scooters. The provider Emmy (electro-scooters), among others, offers this service.
Ride sharing, also referred to as ride pooling, is also a major trend. Providers like Berlkönig or CleverShuttle offer a driving service which can be booked via an app and transports up to 5 people in a vehicle (van) with a chauffeur. The group taxis are less expensive than car sharing and other chauffeur services like Uber or the classic taxi. The latter includes private transport in a passenger vehicle with a chauffeur.
You can book an Uber or taxi via an app nowadays; you can also book a taxi on the phone. If you prefer something exclusive and are not out and about spontaneously, we can also recommend the Blacklane limousine service, which is a driving service with chauffeur. However, trips must be booked in advance with Blacklane. Blacklane does not provide spontaneous transportation.
Bicycles and e-scooters can also be rented in Berlin. In the central districts, local shops offer direct rental. The rate varies and is usually a per day fee. Alternatively, you can also rent a bicycle or e-scooter via an app or SMS. Providers like Nextbike, Jump or Call a Bike make it possible. In the e-scooter segment, there are providers like Tier, Lime, Voi and Circ.
Train and flights: Business trips made easy
Berlin has the long-distance train stations Hauptbahnhof (main train station), Südkreuz, Ostbahnhof, Spandau and Gesundbrunnen as well as the regional train stations Potsdamer Platz, Lichterfelde Ost, Jungfernheide, Alexanderplatz, Zoologischer Garten and Friedrichstraße. The travel density in the capital is very high: 300,000 travellers pass through the main train station in Berlin every day and trains leave in every direction at 90 second intervals.
The Berlin airport is the hub of Europe. The airport BER currently counts more than 25 million passengers per year among the largest airports in Germany. Several bus lines and airport shuttles commute between the city and the airport every 20 minutes.