If you want to bring your pet(s) to Berlin from abroad, there are a few important things to consider.
If you come to Berlin from outside the European Union (EU), you can bring a maximum of five pets with you, but only if the pet stays in your possession. Entry for the purpose of sale or trade is strictly prohibited. Exceptions, however, confirm the rule here. For example, it is not allowed to take more than 3 rabbits, because this is already considered a commercial trade of pets. For all those who want to take more than five animals with them, EU trading conditions apply.
OUR TIP

If you have an exotic pet, check whether your pet qualifies for entry into Germany before moving to Berlin! You can do this on the website of CITES (Convention on International Trade in Endangered Species of Wild Fauna and Flora).
Furthermore, in Berlin and Germany, as is the case in many other countries, the possession of certain dog breeds is restricted. These breeds are included in a list that you can view online.
Strict regulations: immigration laws
No matter what kind of animal you take with you to Berlin, the actual process of immigration is always regulated by customs. To make sure you don't have any problems entering the country, your pet needs the following:
Microchip for all animals registered after 3 July 2011 or a tattoo for all animals registered before 3 July 2011
A pet passport, if applicable (cats, dogs, ferrets)
Rabies vaccination
Veterinary / health certificate (for animals from non-EU countries)
Vaccination documents
Results of a blood test, if necessary
The blood test must be carried out in your home country no earlier than 30 days after the rabies vaccination and no later than three months before entry into the EU (Germany/Berlin).
OUR TIP

Follow the guidelines to the letter! Otherwise, your pet may be quarantined for several months at high cost to you!
Make sure your pet is old enough. Puppies or kittens under 15 weeks of age may not be brought into the EU, because they are only vaccinated against rabies at the age of 12 to 24 weeks, subsequent to which another 30 day waiting period has to be observed by law before they can be moved to another country. This also applies to a move within the European Union.
Veterinarians & Animal Clinics in Berlin
When you arrive in Berlin, we advise you to find a vet in your new area and introduce yourself or your pet. This will make things easier should there ever be an emergency. Usually you can pay the vet in cash or by card. Most vets speak English, so you don't have to worry about communication.
If your pet suffers an emergency outside medical consultation hours, there are several veterinary clinics and practices in Berlin which are open around the clock.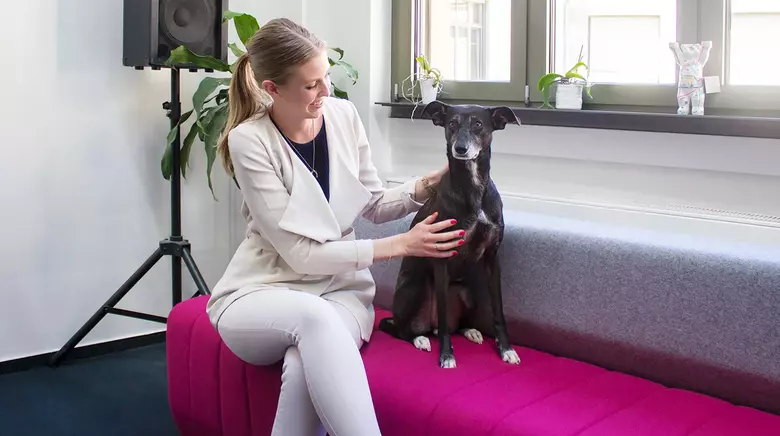 Pets in Berlin rental apartments
There are not generally any bans on pets in Berlin rental contracts. However, we recommend that you inform your landlord in advance that your pet (especially dogs) will also be moving in, although this won't be necessary for small pets such as hamsters, turtles, fish or chameleons.
Berlin dog tax, dog liability & leash requirement
In Berlin, dog owners have to pay a dog tax for every dog. This means that you must register your dog with the tax office immediately after moving to Berlin. The dog tax is currently 120 Euro per year for the first dog and 180 Euro per year for each additional dog. Service and rescue dogs are excluded from this regulation.
Dogs must be kept on a leash in Berlin by law. In Berlin's parks, however, there are marked areas where dogs can move freely – so-called dog runs. On the outskirts of the city you will also find some large wooded areas which are marked as dog runs.
In Berlin, dog owners are also required to take out dog liability insurance by law. The insurance takes effect in the event of damage to property or an accident. Please insure your dog as soon as you arrive in Berlin! You can choose from a number of different providers who will also enable you to take out health insurance for your pet.
OUR TIP

Compare the providers in advance and choose the best price-performance ratio!
Dog walking
From dog walking and daycare to house sitting – in Berlin there are many different providers to take care of your four-legged friend. You can choose either an individual or a digital solution where you book the service using an app.
OUR TIP

If you choose an individual or a small business, search the Internet for a dog sitter/walker near your home (district or neighbourhood)! Most Berlin dog walkers have a fixed area in which they look after dogs.
Adopting a pet from an animal shelter in Berlin
Deciding to adopt a pet from a Berlin shelter is always a good choice. Berlin's shelters are full of lovable animals looking for a new home. So as to make the adoption process as smooth as possible, there are few very important to observe.
We recommend only visiting the relevant animal shelter in Berlin on the day on which you are also happy to actually take an animal home with you and to bring your ID or proof that you live in Berlin or Germany. The adoption process only starts on the day a successful decision has been made for an animal. Once you have answered a number of questions about your living conditions, you will be asked to confirm your identity with your identity card or provisional registration.
After this, an adoption fee is due, which covers the care costs, vaccinations, the microchip and castration. This fee is different for each animal and is adjusted from time to time. It is generally:
Euro 160 to 250 for dogs
Euro 60 to 100 for cats
Euro 20 to 30 for rabbits
Euro 40 to 50 for chinchillas
Euro 3 to 25 for smaller animals
Afterwards you can take the animal home in a box you brought with you.
OUR TIP

Be prepared to provide the shelter personnel with extensive information about your apartment, your house, your family and employment circumstances! In individual cases you may even need to arrange an appointment for an inspection of your living space.