When it comes to corporate culture, many Berlin-based start-ups and companies are open and diverse. Expats are welcome, people from Anglo-American areas anyhow and in many companies the language spoken is English instead of German. But what about people with an immigrant background who grew up in Germany, women in particular? Are they just as welcome in the diverse businesses of the city? Do they have the same opportunities on the job market? Three of many questions we asked Regina Sandig (27), the press spokesperson of the SWANS Initiative, in the following interview.
The SWANS Initiative supports female students and young academics with an immigrant background, black women, and women of color (BIWoC) who have grown up in German-speaking countries in all matters relating to jobs and careers. Regina has been part of the network since 2018 and has been acting as the voluntary press spokesperson since 2021.
She found her way to SWANS through her scholarship in the "GEH DEINEN WEG" ['go your way'] program of the integration foundation Deutschlandstiftung Integration. During the mentoring program, she became familiar with the initiative and was enthusiastic about it from the start. Regina's main job is in human resources and organizational development at the BMW Foundation in Munich. Supporting disadvantaged women and raising awareness for the issue is a matter close to her heart because racism and injustice are also part of her career path. She talks about it in a very personal interview.
What does diversity and inclusion mean to you?
Diversity is about acknowledging and respecting differences between people and representing them appropriately. By differences, I mean characteristics such as age, gender, social and ethnic background, worldview, sexual orientation or identity, mental and physical abilities, and much more. I like to use the Diversity Charter as a guideline.
For me, inclusion is the next step—putting diversity into practice, as we say. It's about creating a culture in which people, with all their differences, feel equally welcome, at ease, and appreciated. Every person is given the same opportunities to unleash his or her full potential.
For me, however, the main goal of diversity and inclusion is belonging. Every person should have the feeling of being a natural part of the society, culture, organization, or company in which he or she lives. A crucial point here is equity—equal opportunities for everyone. Everyone gets the resources he or she needs, so that ultimately everyone has equal access and opportunities.
It's important to understand the major issue of diversity and inclusion as a learning process. All of us see the world from our own perspective. It is almost impossible to always have a view that includes everyone and every eventuality, but we can be vigilant and learn every day.
Where have you encountered the issue of diversity and inclusion personally?
As a black woman in Germany whose parents immigrated from Ghana and a social climber, it is an issue that has always been with me. I was racially insulted for the first time in kindergarten. That hurt me a lot, and I didn't really understand where it came from back then.
It continued during my time as a high school student. Back then, I didn't have much money for school trips or tutoring, for instance. In such situations, I realized that there is injustice and that not everyone has the same opportunities.
It was only when Istudied history and social sciences later on that I really understood that structural discrimination exists and that many people are impacted by it in different ways. During my studies, I learned a lot and also learned for the first time that people have been fighting against this for a long time. For centuries, organizations have been established to pursue structural change—including our SWANS initiative.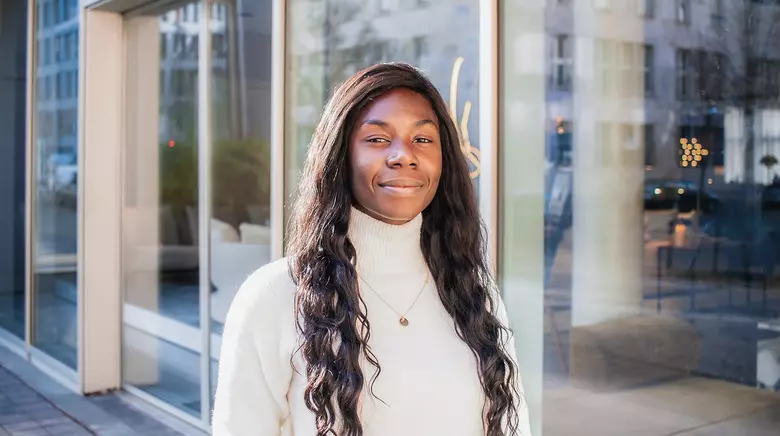 What exactly is the SWANS Initiative?
We are a nonprofit limited liability company that supports female students and young academics with an immigrant background, black women, and women of color (BIWoC) who grew up in German-speaking countries. Our issues are jobs and careers. We now have almost 1,000 "swans" who are part of our community, which is what we call the women we support. In our permanent team, our managing director works full-time and 20 other team members work on a voluntary basis. They want to pursue other professional goals while continuing to pursue SWANS as a subject close to their hearts. But we have only been a gGmbH since June 2022 and are working on growth.
Our vision is true participatory justice. We want our target group to be properly represented in the academic job market one day. To this end, we advocate, among other things, competency-based application procedures. Our motto is 'More fatmas at the management level'!
We offer space for interaction, mentoring, coaching, career counseling, a job application check, and informal online sessions, for example, on the topic of impostor syndrome—a syndrome that also affects many women. At our core, however, are weekend seminars that take place in real time. We recently had an exciting seminar on "Communicating with Confidence" in cooperation with the international business law firm Skadden. At seminars like this, women learn a tangible skill that they can use in their professional lives. We also do a lot of community work. We network our swans on Discord, where they can share ideas on a variety of topics.
We host events that are exclusive to our community, as well as open events that women who are not yet part of our community can attend. These events, by the way, are a great opportunity to become part of our network. You can apply online year-round using this form. We expand our network about every six months. But we only accept as many women as we are able to provide comprehensive support for. You can find out when the next application phase is on our website.
What is the current situation for young immigrant women, black women, and women of color (BIWoC) on the Berlin job market?
Women continue to face major challenges on the jobs market. Berlin itself is open and diverse, but not always in the professional context. Here, women often encounter unconscious bias, discrimination, and racism. This is reflected in all the stories of our "swans".
Thus, women of Turkish origin are often asked in job interviews how they feel about Erdogan. Muslim women, in turn, are asked whether their father would allow them to take the job. This is not only offensive, but it also shows once again that discrimination must be considered on an intersectional basis—as a Muslim woman, you are the only one asked this question. A non-Muslim woman or a Muslim man would not be asked a question like that.
There is an interesting study on this topic by Doris Weichselbaumer entitled "Future of Work". Among other things, the study shows that women with headscarves and the same qualifications have to apply 4.5 times more often than applicants with German names to be invited just as often. For professions with higher education, this figure rose to seven times as often. I have countless examples of this, as you can imagine.
In your opinion, is there a dichotomy on the Berlin labor market when it comes to the topic of diversity and inclusion?
Yes, the start-up sector, for example, generally sees itself as very forward-looking, but that doesn't mean it's pioneering in the matter. The sector is very happy to employ expats, i.e. qualified employees from the U.S., Australia, or other Anglo-American countries, but not necessarily people with an immigrant background who grew up here. There is certainly a double standard. With expats, for example, there is nothing wrong with a lack of German language skills. Having them as part of the workforce is more instead seen as "sexy," modern, and international. Applicants with an immigration background, on the other hand, are often judged differently.
There is also a divergence of ideas when it comes to compensation. In a start-up, employees usually don't earn very much money, especially in the early phase after the company is founded—the focus here is more on purpose and a sense of community. Foosball, fruit baskets, and beer after work are all part of the pay. And sure, these are all great benefits. But who do start-ups really appeal to? Who can and really wants to enjoy them? Here, people with a socioeconomically disadvantaged background are immediately excluded. Because these people may have other priorities as a result of their background and need other assurances.
Do German companies see the topic of diversity and inclusion more in terms of social or economic policy?
Current perceptions of the issue are still largely sociopolitical. It is, after all, a social issue. But a lack of diversity and inclusion is nevertheless associated with harsh economic interests: competitiveness and future viability. And it's slowly filtering through in Germany, too, that the issue is not just a normative matter, but also makes a company more profitable than average. Numerous studies demonstrate this. Large companies and corporations listed on the DAX in particular are thus increasingly prioritizing the issue as a matter of economic policy. Countless studies bear this out.
Many other countries are a step ahead. In the U.S., for example, an analysis conducted by the National Bureau of Economic Research found that the increasing openness of the labor market to white women and people of color in academic professions between 1960 and 2010 increased gross domestic product by 25 percent.
What advice do you have for Berlin-based companies and institutions to better integrate young migrant women, black women, and women of color (BIWoC)?
I have a lot of tips. Design your application processes to be sensitive to diversity! To do this, it is helpful to first scrutinize your current processes. Where do you have a conscious or unconscious bias? Examine them and modify the process.
Create spaces and resources (working time, financial capacities) to empower your employees, so that they can exchange ideas on this topic and make progress! And above all, create a company-wide, understandable and transparent examination of the topic. Include meetings where the whole team can talk about it. Use check-in questions at the beginning of the meeting to see how those in attendance feel about the topic.
It is also important to establish a mechanism for reporting incidents of discrimination. Who can employees turn to if there is an incident? Unfortunately, the procedure in such a case is still opaque in many companies. Most importantly, ask the target group outright what they want and need to feel better! The dialog will be insightful and give you lots of inspiration.
What can one person do to promote the issue of diversity and inclusion in their company or institution?
As a first step, familiarize yourselfwith the topic and educate yourself through books, articles, and podcasts! You can find my personal tips on the topic of diversity and inclusion in the list of linksbelow. Then, once you have gained comprehensive awareness, examine your own role in your individual environment. If there is a community in your company or institution, then join it! If there isn't one, start one! And most importantly, always look outside the box! Conversations with many different people will give you different and new perspectives.
Thanks, Regina.