Interview with Nils Dreyer: Inclusivity offers a chance at self-actualisation.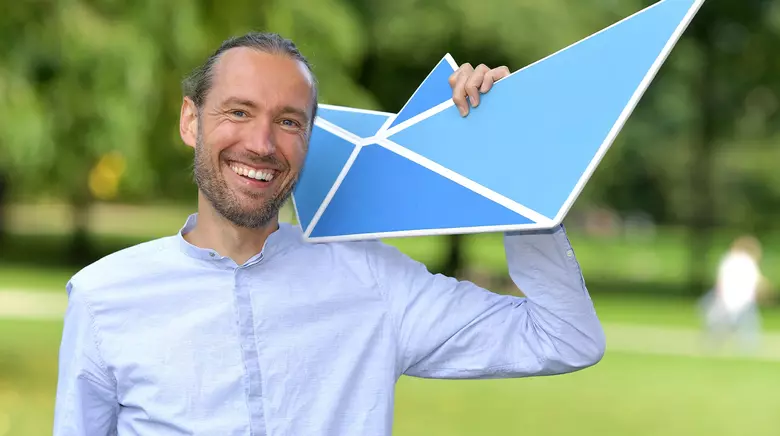 Berlin is a cosmopolitan city that has long had a commitment to diversity & inclusion, which are, at this moment, undoubtedly the main topics of discussion when it comes to corporate culture. In Germany, it is a legal requirement that companies with more than 20 employees ensure that at least five percent of their staff are persons with severe disabilities (Schwerbehinderung). That sounds like a great opportunity to incorporate inclusivity into the workplace! Unfortunately, no. That's because the law allows companies to pay a compensation fee in lieu of hiring disabled people. That is, instead of hiring disabled people, employers can simply pay a yearly fee to the Inklusionsamt, or German Office for Inclusion. "That's a true systemic problem" according to Nils Dreyer (44), CEO of Hilfswerft gGmbH.
The Hilfswerft has been working to assist social entrepreneurs in Germany for eight years now, and started their Inklupreneur project in 2020. Inklupreneur provides support to entrepreneurs and start-ups as they develop a profitable business model alongside an impact model. The latter is based on the UN's sustainability goals and connects disabled applicants to specific employers.
Nils and his team are facing a huge challenge, because even today, disabled people are twice as likely to be unemployed as non-disabled people. And this despite the fact that statistically, disabled people experiencing unemployment have more education and work experience than people experiencing unemployment who do not have a disability. Of course, this means that many disabled people capable of doing good work are reliant on government support. "It just doesn't have to be that way," says Nils.
That's why he started Inklupreneur, developing a model that gives disabled people a chance to experience self-actualisation. The project helps them to find a suitable job, and connects companies with highly qualified workers. "Everyone wants to fulfil their potential and make an impact. The right to self-actualisation should be accorded to everyone, regardless of their gender, faith or disability," says Nils. In the following interview, he talks about the challenges he faces daily at work, how Berlin companies are incorporating inclusivity into their work and how each and every one of us can contribute to a more inclusive world.
What does inclusivity mean to you?
From my perspective as a social entrepreneur, inclusivity allows people who otherwise would be excluded to take an active part in the work world. Inclusivity has a huge impact, and really should be a standard both in society and in all corporate cultures. I believe that the more diverse a team is, the more successful they will be, and science really backs me up.
When did you encounter the idea of inclusivity for the first time?
15 years ago, I worked with a friend to found an online start-up and we were searching for a developer to work with us. One of the people who applied was severely physically disabled. His name is Gerd. Gerd was the applicant with the best formal qualifications for the job. We invited him to an interview so we could get to know him. That was the first time I came into contact with a severely physically impaired person as an employer.
We ended up hiring him, and we had no doubts at all as to whether he was the right person for the job. We worked really well together. It was very interesting to watch the situation unfold. Gerd definitely had needs that were different from those of our other employees - he needed a height-adjustable desk, a variety of magnifying glasses and some other adjusted work-from-home rules, but that really wasn't a problem.
All the employees hired after we hired Gerd worked well with him, there were no issues at all. That meant we had created an inclusive corporate culture, simply by having a severely disabled person on our team right from the get-go. My favourite part about this story is that while I no longer work with the company, because I sold my shares in it six years ago, Gerd is still working there as head of the IT department.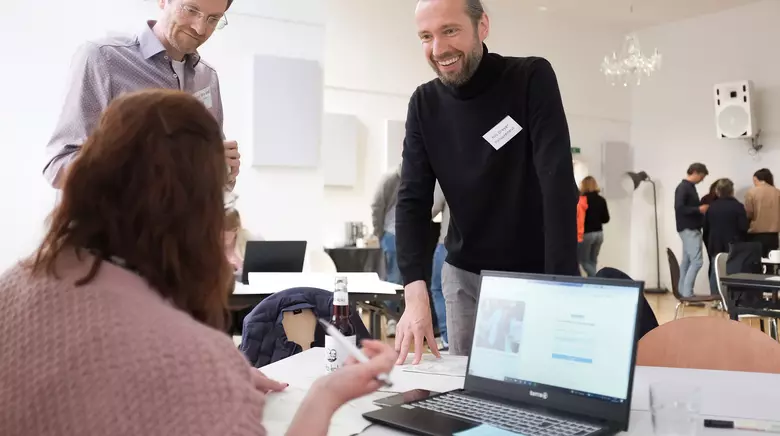 Tell us all about your project, Inklupreneur.
Inklupreneur is a project from Hilfswerft. There are eleven employees working for the company, and six of them are on the Inklupreneur team. That team consists of a project director and implementation consultants who provide support to start-ups and grown-ups in Berlin and Bremen that want to hire disabled people.
We also have a talent pool, a place for disabled job seekers to create a profile focusing on their personality and values. This profile is then uploaded to a database, and our system matches the job seekers to employers advertising jobs with us. If one of the job seekers likes one of the available jobs, they can then start the application process.
Inklupreneur has a pledge they ask companies to make. What does it mean, and who can make the pledge?
Our pledge is a statement we ask both companies and organizations to commit to. The goal is to create an inclusive corporate culture. The second step is to go even further and commit to hiring a set number of disabled people. We then start a program with these companies to help them reach this goal.
The program is free, but of course it requires time and work. Participating companies are brought together in groups and then they go through a process designed to help them become an inclusive company.
Any company can sign the pledge. However, as part of the second step, we get in touch with companies to investigate their goals and values. If we believe they are a good fit, we accept them into our program to help them reach the goals named above.
How inclusive is the corporate landscape in Berlin right now?
I think at their core most start-ups in Berlin (around 75 percent) are willing to engage with the issues of diversity and inclusion. But only 33 percent of them actively hire severely disabled people. There's a mismatch between the will and the reality.
Lots of companies complain that they don't receive applications from disabled people. But it's up to the company to work on their image. It's their job to make sure that disabled people know they are welcome to apply. There's still so much work to do. And we at Inklupreneur want to support that work.
Why is working with an inclusive employer a good thing?
Statistically, it's been proven that inclusive corporate cultures are more successful. But in the end every person has to decide for themselves if they prefer a corporate culture in which everyone is around the same age, eats the same thing, listens to the same music, has the same interests, or whether they would prefer to work in a diverse team that brings a variety of perspectives to the table. I think it's really important that people get to make that choice for themselves.
Did you know that the large majority of people are not severely disabled at birth? Most people become disabled, through illness or accident. That means, of course, that any of us, or our family or friends, could be affected. I think it's really important that we are mindful of the issues facing disabled people and work together to foster an inclusive corporate culture. After all, work is not just about creating a product or providing a service, it's also a social environment.
What leading Berlin start-ups are working the Inklupreneur?
Karma Kollektiv is one company that has added inclusivity to it's articles of association - that's a big step.
kfzteile24 is another company that has done the same. The company has up to 800 employees. We are currently working together to examine every department and create opportunities for disabled people to work there. In particular, we are working with the Berufsbildungswerken, organizations in Germany that provide job training for disabled people, to create recruiting opportunities for people entering the work world.
But there are other companies, too, like Einhorn, who are creating new positions by removing certain tasks from existing jobs to create new work profiles that allow disabled people to take on the job.
Is there a difference between the public and private sectors in terms of inclusivity?
Yes, the requirement that companies with more than 20 employees must have at least 5 percent of their staff be severely disabled is achieved much more quickly in the public sector. This is in part because of inclusivity agreements they have made, but it's also to do with doubts of the applicants, who are unsure whether they will be welcomed at private companies. As I said before, that has to do with how these companies present themselves to the outside world.
Public companies really are required to embody inclusivity, whereas private companies have a choice. There just aren't many private sector companies who do inclusivity well right now, unfortunately.
What advice would you give to companies who want to become more inclusive?
Have the courage to get started! Don't let complexity scare you! Engage with the issues, gain experience and then use that experience to make new, different decisions.
How do qualified professionals find companies that actively want to promote inclusivity as part of their corporate culture?
Inklupreneur is one great way to do that. Our website lists companies with inclusive corporate cultures. The businesses on our list have all been audited by us and are in the process of transforming to become inclusive companies.
What can professionals do to promote inclusion within their company?
If you work for a company in Berlin, you can contact Inklupreneur at any time. We will work with you to get the ball rolling. To do more to encourage diversity and inclusion in general, join a group within your company that deals with the topic. If no such group exists, start one! Give the subject a voice, exchange ideas and information and talk to the human resources department and management about taking concrete action.
Thank you Nils.