An interview with Barbara Lutz: Everybody wins with diversity!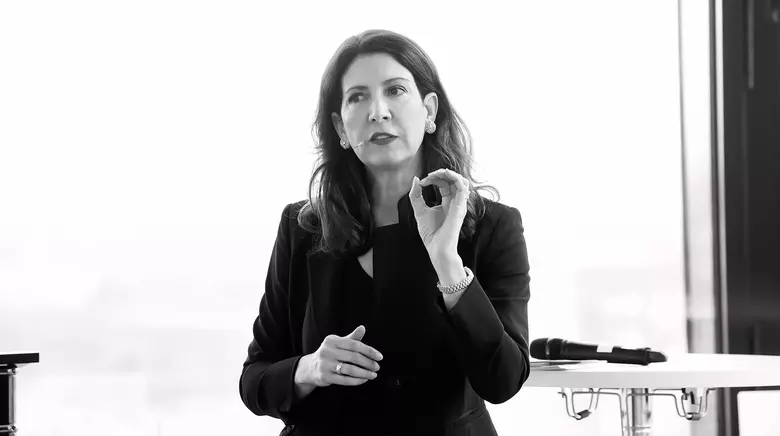 Summer 2020. The Corona pandemic is in full swing, forcing many companies to shift into crisis management mode. Finances, staff shortages, working from home – the professional world faced clear challenges to deal with the upheaval. The pandemic overshadowed emerging societal issues such as diversity & inclusion, triggering fears that they would be left by the wayside. This was reason enough for the managing partner of Index Management GmbH and founder of the Women's Career Index (FKI) Barbara Lutz and her team to launch the Impact Of Diversity (IOD) project.
How does society benefit from diversity? What can we do to make companies more diverse? And in what way can we help people grasp the positive impact of diversity? The IOD project addresses precisely these questions, initiating an enduring dialog to find answers. As a platform for communication among equals, IOD brings together initiatives, experts, decision-makers from companies and representatives from politics and science. The project aims to advance the issue of diversity within society and to stimulate action that induces change. In a fascinating interview, Barbara Lutz reveals how this can work and what the challenges are.
What does the Impact of Diversity (IOD) project entail?
Encounters and communication! Our platform leverages opportunities to learn with and from each other. We organize a variety of event formats as a framework to encourage precisely these things.
One example is our monthly Think Tank to foster ongoing communication between business, science, politics and society. Members share their thoughts on their specific experiences and success cases in the area of diversity.
Another example is our Mentoring Program, which connects two people for a period of six months. Participants can exchange ideas and explore their potential one-on-one. It is a wonderful opportunity to become inspired by senior executives, CEOs, recruiting experts, successful businesspeople and social entrepreneurs!
The second edition of the Impact of Diversity Award was also presented this year. This award honors remarkable diversity concepts, fantastic initiatives and committed individuals in 14 categories, among them Age Inclusion, Contribution to LGBTIQ+ or Social Inclusion. All nominees are showcased on our website and therefore improve their visibility. The response was amazing. We were totally overwhelmed by all the positive feedback. There was also a powerful energy at the award ceremony, a sense that things were really moving. It was a good feeling.
What does diversity mean to you personally?
For me it means to grasp diversity as a win. Included in this is the acknowledgement of different viewpoints and the acceptance of ongoing discussions. Diversity creates new perspectives, shakes things up, stimulates fresh ideas and makes them easier to put into practice. What's more, addressing diversity trains us to listen, to be open and to wait and see before forming an opinion. It's an altogether enriching experience.
How did you first come into contact with the topic of diversity?
I worked for American, French and other international companies for a long time and also gave birth to my two children during this period. It was never an issue whether I wanted to become a mother or later on when I had started a family. Even in interviews with headhunters, no one ever asked me about my personal status – until I moved to a German company.
I worked for a large German bank and was one of the few women in a management position. Among other things, I was persistently asked about my children, which is actually quite prejudiced and not at all good. Besides that, I was struck by how many of the people working there seemed 'the same'.There was a dreary monotony at managerial level – so the opposite of diversity. This was a wakeup call for me, and I founded the Women's Career Index (FKI) with a grant from the German Federal Ministry of Family Affairs. We were the only ones in the world to create an index of this kind back then.
What do you want to achieve with the IOD project?
Our world is diverse, so I want diversity to become normal – in other words, diversity is actually already the norm. We need to be more open and transparent about the issue. Our project can contribute to this happening.
It is important that we enable discussion around diversity and that we do so in a spirit of appreciation – in both directions. Our aim is to foster positive and frank discussion and mutual understanding.
What is the current status of diversity in Berlin's corporate landscape?
Many companies have clearly recognized that diversity is essential for them. Aside from societal and personal perceptions, this is often related to the general conditions on the labor market. We have clear legislation and an extreme shortage of skilled workers. It is therefore only logical that companies must become more attractive to a wider group of people.
Diversity is increasingly becoming a motivation for job seekers to choose a particular company. Moreover, we now know that diverse companies are more successful, so investors are exerting greater pressure on public companies – as an example – to enshrine diversity in their practices. And what kind of investor would not want to invest in a successful company?
Broadly speaking, I would say that Berlin's companies are developing very well – although we must always distinguish between a city like Berlin and more rural areas. There is certainly more to do there than there is here.
How can I recognize a diverse company?
Take a look at the company's annual reports, websites and social media channels! Or contact them directly! A company's permeability is what really matters. Is a real culture of diversity taking root?Check the composition of management levels to see if they are actually diverse. A company's true level of diversity is mirrored at management level.
Which are the top Berlin companies in the area of diversity?
They include the Berliner Wasserbetriebe, Berliner Verkehrsbetriebe and the rail company Deutsche Bahn.
Are there any current trends in diversity?
Yes, without doubt the shortage of skilled workers. It is forcing companies to open up to new target audiences – which many are struggling to do. The days of looking for clearly defined applicant profiles and then awarding the jobs to them are over. HR managers are having to rethink where they will find suitable candidates and, above all, who specifically they have in mind. Today, for instance, it is more common to accept lateral entrants who may not possess the usual degrees and training. There is a lot changing in this area at the moment.
What would you advise companies to do in the area of diversity?
Avoid taking action for action's sake! Instead, ask yourself the question: Where am I now and where do I want to go? Diversity is a strategic task for the company. Make sure that people with different backgrounds are involved in strategic decisions. Only then will the topic be successful.
What can specialists do to promote diversity in their company?
Build a community (a women's network or an LGBTQ+ network, for example), find allies, and put pressure on the board! The biggest challenges tend to be in middle management, so it is wise advice for specialists to make direct contact with top management. Build networks with the highest echelons and ask for financial resources to support your networks!
Thank you very much, Barbara.