Changing careers to the civil service: take opportunities, overcome challenges and start your career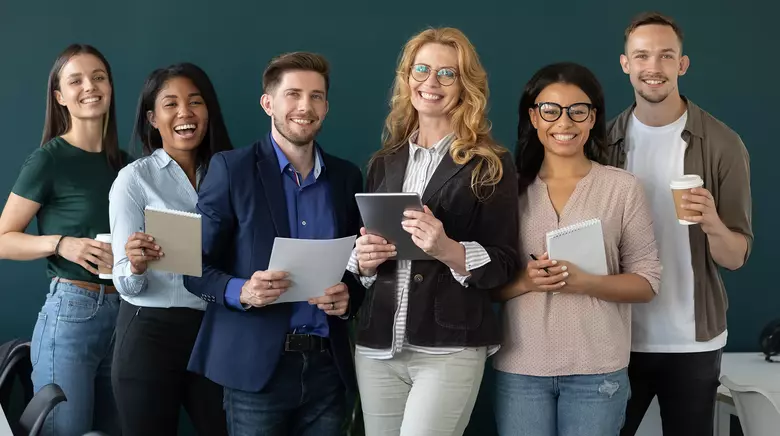 The civil service is often considered to be a sector characterised by a high level of stability, clear career paths and secure jobs. As the largest employer in the State of Berlin, the civil service is therefore also very attractive for people looking to change their career.
There are several reasons to change careers. Many want to change their profession, whilst others are looking for meaningful work or would like to bring their experience and skills to a new environment. The civil service in Berlin offers over 140 areas of activity, which in turn cover a wide range of duties. The most sought-after sectors are:
• Administration
• Teaching
• Law
• Policing
• Fire brigade
• Taxes
The civil service is currently in a state of transition, as it is affected by demographic changes. Almost a third of Berlin's administrative employees will have left by 2029. The reason: their age. Almost one in four people is over the age of 55 and will retire within the next eight years. Sectors that are particularly affected include sport, transportation, policing, youth/child protection and education. New professionals are urgently needed in these sectors. It's an opportunity for you.
What can I bring to the civil service as someone switching careers?
As someone switching careers, you can provide valuable fresh input to the civil service, which will benefit from your professional experience in the private sector, particularly in digitalisation, innovation, recruitment and beyond.
With your expertise, you will bring new skills and perspectives to administration and other areas. You have the power to change how people think about and approach their work and can therefore be an asset to the civil service.
What challenges will I face in the civil service as someone switching careers?
However, there are challenges that will need to be overcome. The general framework is different to that of the private sector. There are clear regulations and hierarchies that must be adhered to. This may be an adjustment for you.
It is also always exciting finding your feet in a new industry. For example, the legal and organisational connections are very complex in the civil service. Expect a longer onboarding process and ensure you receive all the support you need.
When you are hired, your professional experience and skills may not be automatically recognised. For example, working as a manager in the private sector does not mean that you will also be able to start as a manager in the civil service. Be aware of this and ask about your options in advance.
How do I find a job in the civil service as someone switching careers?
If you're interested in a career change, get straight into looking for a job. The State of Berlin's career portal offers an extensive list of all areas of the civil service and possible career opportunities. Here you can learn more about the opportunities available to you in specific professional fields.
It is also recommended to visit a job fair or another job event, where the whole civil service or part of it, such as the police or administration, attends as an employer. They allow you to connect and network with people working in the civil service. You can also find an overview of upcoming events on the State of Berlin's career portal. Click on the preferred sector in the overview of professional fields and follow the navigation links.
You can also search for jobs in the career portal, which shows all currently available positions in the civil service in Berlin. Search by keyword, institution, area of activity and more to find your next job more quickly. If you still haven't decided where your place in the civil service might be, you can also submit a speculative application. To do this, simply contact the authority of your choice directly.
Alternatively, we recommend that you search for a job in our job portal. Here, most available jobs in the Berlin-Brandenburg region are pooled with one search. The expanded search allows you to select 'civil service' as a preference for professional field.
OUR TIP:

If you are interested in changing careers to join the civil service, make sure to check the requirements. Specific training or qualifications are necessary for many sectors. If you don't fulfil this requirement, it is recommended that you complete further training or obtain another professional qualification. This will allow you to increase your chances of a successful application.
A few final words to finish: If you are aiming to change careers and join the civil service in Berlin, you have many opportunities. Thorough research or searching for positions and taking a good look at your professional qualifications are necessary for a targeted application and promising career path.
OUR TIP:

Are you interested in a career change as a teacher? Read our magazine article "More attractive than ever: becoming a teacher in Berlin!". In an exciting interview, Thorsten Metter (head of the ZS I department) and Markus Kringel (head of the specialist group for specialist advice and recruitment) from the Senate Department for Education, Youth and Family Affairs reveal what requirements you should bring with you and how the career start works.